Respect for Farhan Azmi would  have grown had he apologised on behalf of his father Abu Kazmi's comment on Bengaluru molestation case. According to reports, Abu blamed "short skirts" for the sad, disgusting and shameful incident, inviting rage from four directions. But, sadly, Farhan reacted to the statement, by further retweeting a post slut shaming Esha Gupta, He further went on an illogical rant against Bollywood. He asked what happens when well wishers of the society sip alcohol while listening to songs like Munni Badnaam, and Fevicol Se. Okay! First of all a HUGE difference between films and real life, Farhan really needs to understand that.
While he openly took a dig at Esha Gupta by retweeting a very demeaning remark on her, and tagging her in a post that compared prostitution to acting/modelling. But he also took digs at  Kareena Kapoor Khan and Malaika Arora Khan, indirectly, in the process. The song Munni Badnam is credited to Malaika's name, while Fevicol Se is to Kareena's. Who knew the songs that have been churned  out for entertainment will be held against Bollywood in light of such incident, in such a disgusting manner. Someone needs to learn that maligniing someone else in the process is not the way to clear one's  name.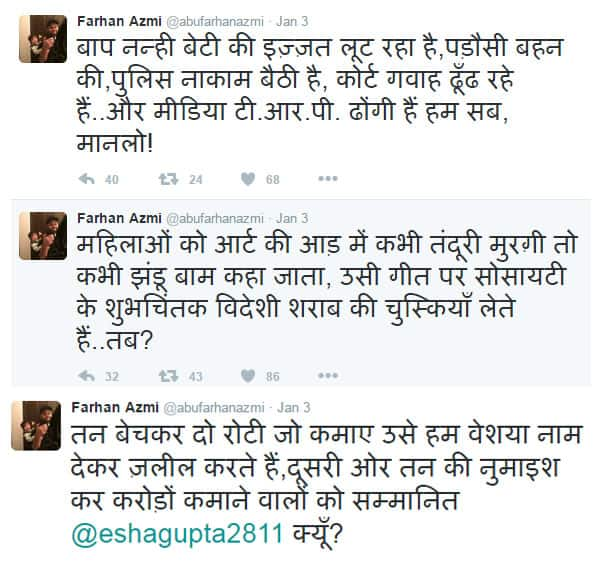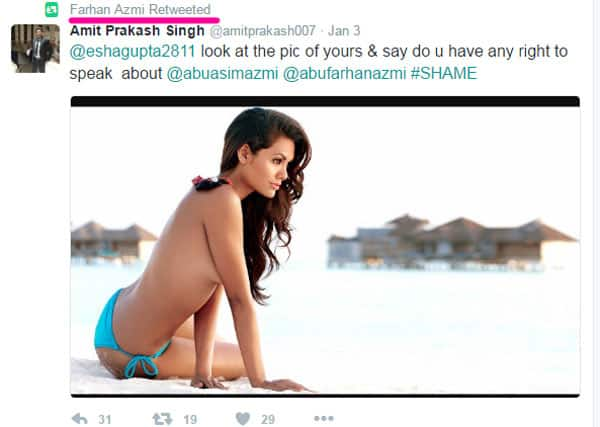 The only woman to blame here,n she probably would have blamed herself too,is the woman who unknowingly gave birth to a jerk like u#AbuAzmi

— Esha Gupta (@eshagupta2811) January 3, 2017
When people are coming out and bashing the disgraceful incident. Farhan is on a whole different fight.
Hrithik Roshan, had talked about the Bengaluru incident at the launch of Kaabil song Mon Amour, and said, "I didn't see the news in real time. But yes it is sad and we all bear responsibility. We all must do something about that. I feel very strongly as a father, as a member of the society that if something like this is happening in an environment so close to me, then I definitely must be impacted. I must be affected and I must do something about it."